What's new for winter 2023/2024 ?
[SKI AREA] Live 3000
An experience that will get your head in the clouds in summer and winter alike, 3 000 m above sea level, at the top of the brand new Les Glaciers gondola which will be opening in December 2023.
After a 10 minute ascent, as soon as the cabin opens, skiers and pedestrians will discover an area that is perfect for a moment of contemplative relaxation.
In the style of a cosy refuge, "Le Sixième Ciel" will propose sweet and savoury snacks to enjoy inside or from a front row seat on the terrace as you make the most of the panoramic view of the Vanoise glaciers.
 
A page was turned at the end of last winter with the dismantling and sale of the Bellecôte gondola cabins, which had reached the age of a well-deserved retirement. 16 December 2023 will mark the launch of the new Les Glaciers gondola. Although its departure point is still the same (Roche de Mio), the line will now follow a new trajectory to arrive on a new sector anchored in the rock, at an altitude of 3 080 m.
Two notable details:
- La Plagne is the only ski resort in France that installs its own ski lifts, so this new gondola is the work of SAP Montage, one of the Société d'Aménagement de La Plagne's proud achievements: an in-house team with skills ranging from civil engineering to on-site assembly.
- our wish to preserve the mountain environment is reflected in the mitigation hierarchy methodology (Avoid / Reduce / Offset). To give a specific example of avoidance, we studied different possible ways of achieving the best summer/winter development with the minimum impact", explains Jacques Chaudan, the SAP's technical director.
Les Glaciers gondola in numbers
- 10-seat cabins
- ascent time: 10 min
- flow: 2,700 people / hour
- altitude bottom station (Roche de Mio): 2 715 m
- altitude top station: 3 080 m
- total investment: 26M€
- constructors: Pomagalski and Ingelo 
[EXPERIENCE] EXP"Job Swap" with a bobsleigh pilot for a day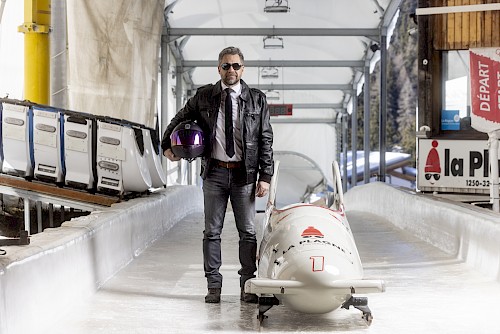 If you would like to follow in the footsteps of the cast from "Cool Runnings", La Plagne's Olympic bobsleigh track is proposing a world exclusive where members of the public can try piloting a bobsleigh. This thrilling and highly original experience lasts a full day for the apprentice pilots. The adventure includes a "track walk", just like the pros when they study the line, two descents per person in a 2-person competition bobsleigh (once as pilot, once as passenger) and a technical and emotional debriefing. You will be supervised by professional pilots, including federal instructors, both on the track and in a private room with panoramic views where you can stay warm and enjoy lunch.
 
- 2 days scheduled during the winter: 12 January and 9 February 2024. 8 people maximum per session. Minimum age 16 years. Helmet and crampons provided.
- Price: 590 € / person.
www.bobsleigh.net 
This new version for the general public is a variation of the "Bob Incentive" concept created in December 2022 by Carpe Minute agency for company employees. Born of the passionate energy of Quentin Willems, this offer fits perfectly with La Plagne's desire to diversify its business tourism offer. These unique seminar days will run from 16 December 2023 to 31 March 2024.
www.bob-incentive.com/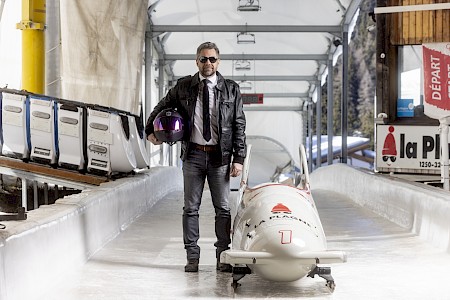 [EXPERIENCE] Slow immersion in the "Village Plan Bois" in Montchavin - Les Coches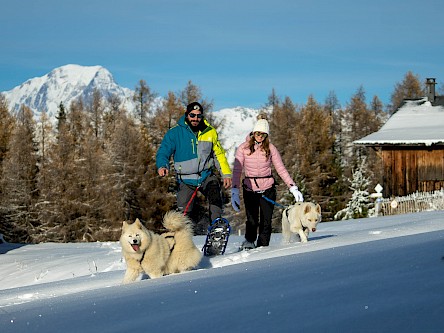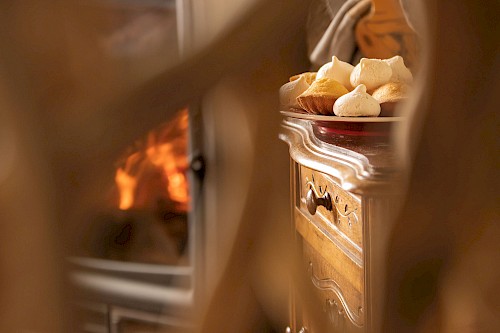 The Village Plan Bois brings together several #slow mode experiences in a single location perched on a "montagnette" (small mountain) in the La Plagne ski area. An unspoiled area away from the main resort sites, with trees and a wealth of remarkable environmental features. What used to be a place to pass through is now a site where you can linger and enjoy a moment out of time, by using it as a base camp for a day or two, with an original overnight stay. Four of our local socio-professionals, each with a passion for a different but complementary activity and who all enjoy the spirit of the place, came up with the idea of using the surrounding area "with a view to preserving nature and raising awareness of the need to respect the site and its inhabitants". This experimental initiative is also part of La Plagne's Flocon Vert certification process. It is accessible both to skiers and those on foot.
The programme of nature activities is centred around Isabelle Gentil's "cosy cocoon", Le Chalet du Plan Bois, an altitude restaurant that gives pride of place to local products.
Day 1 –  Sled ride with Steve Samson's dogs from the Ecrin de Baloo
> Original overnight accommodation with Evo2 ski school, led by Bruno Chavard. An overnight stay in an igloo, a wood cabin or even a tent, according to nature's current conditions. 
J2 - Ski-sophrology in the forest with Karine Fromaget, a ski instructor and sophrologist

https://evolution2.com/en/la-plagne-montchavin-les-coches
Putting a grocery back in the village centre
Although it was the place where Beaufort cheese was made from 1932 and into the 60s, there didn't seem to be a future for the old fruitière* in Longefoy**, with its traditional vaulted ceilings and stone-lined cellar. Then along came Arnaud and Marie-Cécile Defayet, a couple with great vision and communicative enthusiasm: "The first time I walked in there, I instantly sensed the soul and full potential of the place" remembers Arnaud, originally from Chartres. On a professional level, if Arnaud is continuing to work as a therapist, this is a whole new role for Marie-Cécile, who used to be an assistant at a Parisian architecture firm.
 
Situated in the village centre, "L'Autrefoy" is a multi-purpose venue featuring:
- a grocery shop selling organic bread and fresh and regional/local produce, including fruit and vegetables
- a café with an outdoor seating area
- a wine and spirits cellar with tasting area
- a bistro-restaurant with a 'home-made' menu of bold flavours (onion tiramisu!)
Because L'Autrefoy is not only a meeting point that has revived village life, but also pays tribute to the history of Longefoy and its cheese dairy through its respectful, modern and inspired renovation, the project has got most of the locals on board. The photographs and objects from yesteryear that have (re)taken their place in the restaurant have contributed to this: for example, the old copper cauldron was found after a long search and brought back from Fréjus to the cheese cellar it was first used in. On the staircase leading up to the restaurant, the personalised wallpaper uses period images and the handwritten notes of the villagers in the dairy register... creating a lovely, lively address, where the past, present and future of the village are inextricably linked.
Info:
- open year round.
- lunch and dinner menus on the basis of a selection of fresh products from 20 €.
- less than 5 min from the slopes.
- free bus service Montalbert <> Longefoy <> Aime-la-Plagne in winter.
https://www.instagram.com/lautrefoy/
* Traditional mountain dairy where the milk is made into cheese on site.
** Red-roofed village with a population of 255 inhabitants, 1 250 m above sea level, just next to Montalbert.
 
[ANNIVERSARY] Paradiski is 20!
These two complementary approaches are intended to be "photographs" of the existing situation. They are the basis for setting the course and deciding on the actions that will impact La Plagne's future and the preservation of its natural, economic and social ecosystems.
Since it was created in 2003, Paradiski has given the lie to the old proverb that says that only mountains can never meet. The inauguration of the Vanoise Express, the exceptional cable-car that links the two mountains, has proven that everything can in fact be connected. This is how Paradiski linked the unexpected by connecting the two mountains, the resorts of La Plagne, Les Arcs and Peisey-Vallandry, the inhabitants of the valleys and those from across the world.
This winter, 2023-24, will mark the 20th anniversary of Paradiski. This anniversary tribute, celebrating the goal of its visionary creators and a maturity that bears witness to the loyalty of the 4,3 million "Paradiskiers", will give pride of place to the unexpected and to encounters…

A new logo will be its first gift. Liberated from a realistic representation of a snowflake, with a more minimalist line and associated more closely with a pluri-activity mountain in both winter and summer, it evokes outreach, encounters and diversity.
See you on 16 December 2023 in Paradiski 
Creating a region-wide "employer brand"
In a sensitive socio-economic climate, it seems obvious that we should group everyone together "under the same red hat" to respond effectively to the new challenges of the job market. The Office de Tourisme de la Grande Plagne has therefore created a territory-wide "resort employer brand" and launched a specific website that shares tools, such as grouping job offers, etc. This approach has already brought together around 100 socio-professionals to highlight the resort's key assets for job applicants. With a view to recruiting and retaining season workers, this is a "seduction operation" that will be conducted over the long term, its priority mission being to fill 3000 jobs every winter season.
www.emploi-laplagne.com
Puy du Fou
Partners for over ten years, La Plagne and Puy du Fou are now coordinating on-site meetings between employers and job applicants. Making the most of their complementary seasons, the goal is to encourage season workers to work in both destinations over the year. To do this, the Puy du Fou HR team came to La Plagne in January 2023 and La Plagne will be going to the Vendée on 14 September 2023. It is a system that already works very well for a number of season workers from France and abroad. It is this virtuous circle that has led to the creation of the La Plagne employer brand.